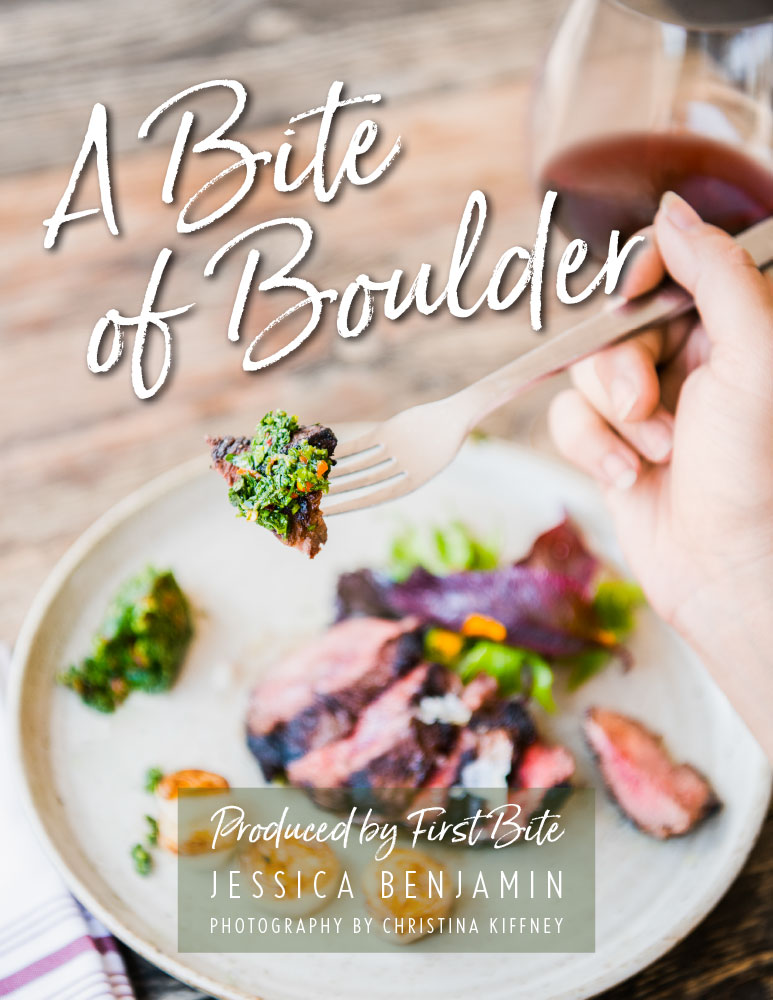 A Bite of Boulder
Cooking at Home with Boulder's Best Restaurants
$29.99Add to cart
A Bite of Boulder is a collection of more than 40 recipes from Boulder's favorite restaurants along with stories of the dishes and the people behind the food. With special features on wine, cheese and spices, kitchen tips & tricks, the future of our food system and featured stories from local industry personalities, A Bite of Boulder will keep you connected to the Boulder dining community throughout the year.
Filled with vibrant photography by Christina Kiffney, A Bite of Boulder features a variety of dishes from your beloved restaurants:
Colorado inspired Cactus & Corn Fritters from Zolo Grill
"The OG" Kale Salad from OAK at Fourteenth
Chef Yukiji Iwasa's legendary Hamachi Carpaccio at Japango
Santo's unforgettable Red Chile Posole
Soul warming Udon Kombu Noodle Bowl from Leaf
Support local small businesses and share your love of Boulder with friends far and wide.
Orders will ship 3-5 business days after purchase
Can ship to only one location per order
Where to Buy
Cookbook available for purchase at:
Corporate pricing available for bulk orders, please contact [email protected].
Restaurant List
A Bite of Boulder was born out of the necessity to support restaurants during a global pandemic. In telling the story of the restaurants, and the thousands of people who pour their hearts and souls into each dish, A Bite of Boulder hopes to connect us through each restaurant's first bite. We are proud to present the following restaurants' recipes in this cookbook:
Acreage at Stem Ciders
Avery Brewing
Basta & Dry Storage
Black Cat
Blackbelly
Bohemian Biergarten
The Boulder Cork
Cafe Aion
Centro
Chautauqua Dining Hall
Chimera Ramen
Corrida
Dushanbe Teahouse
The Empire Lounge
The Greenbriar Inn
Japango
Jax Fish House
Leaf
Oak at 14th
The Post Brewing Co
River & Woods
Roadhouse Boulder Depot
SALT
Santo
Shine
Steakhouse 316
Verde
West End Tavern
West Flanders Brewing
Zolo Grill
Reviews
A Bite of Boulder has been selected in all the Top Front Range Gift Guides as Gift of the Year, including: 5280 Magazine, Westword, 303 Magazine, Boulder Weekly, Edible Denver, Daily Camera, Edible, Waggle, Mountains & Mimosas, Local Table Tours, and more.
Thank you to our Community Sponsors
Thank you to our Community Sponsors