2021 was A YEAR, amirite? I always believe in reflecting on the past year and setting intentions for the new year, but the very end of 2021, and first few days of 2022 consumed our entire community as we experienced the Marshall Fire. I am so proud of our community and how quickly we jump to help our neighbors when tragedy strikes. So, the month of January certainly didn't feel like a "Happy New Year." So, let's try this again, shall we? The weather is gorgeous, and there is lots to look forward to, even as we all continue to heal from 2021.
Looking back…
First Bite had a very eventful 2021. We continued to engage with you all through our cookbook through cooking classes, virtual talks and gifting galore. We have generated over $82,000 in revenue for the restaurants with A Bite of Boulder and still have a few boxes of cookbooks left to share. As vaccinations rolled out, the whole foodie world descended out of hibernation and enjoyed as many culinary adventures as we could. In September, our team enjoyed a fun farm dinner at The Lyons Farmette, hosted by Cured to support Growing Gardens. The unique picnic-style event is one we will never forget—and something that we hope sticks around post-pandemic! We were ecstatic to be able to reignite palates with First Bite's restaurant week in October and heard so many exciting experiences and new tastes. We closed out the year focusing on highlighting the small business community that supports our restaurants day in and day out with our 12 Days of Giveaways. It's always such a fun way to get to know our local small business community better and to encourage shopping local.
Our team grew by two this year, bringing us to the perfect fighting weight of six strong. We wanted to take this moment to do a quick intro of ourselves, and to share with you our own most memorable meals of 2021 and foodie resolution of 2022.
Jessica Benjamin is the fearless leader behind First Bite. Jess guides the brand and the First Bite team with heart and passion. With unparalleled commitment to the foodie community, the First Bite brand has been growing exponentially since she began steering the ship in 2019. And it's only just begun…
Most Memorable Meal of 2021
Most of my best meals also are because of the experience and the company. My first bagel at Rosenbergs on the Hill was special because my family and I rode our bikes from South Boulder for Sunday morning breakfast. After breakfast we rode up to Chautauqua's new playground to meet friends and play the morning away. It was a beautiful, warm summer morning, and the bagels transported me back to NY where my family is from. My other most memorable meal of the year was the Guest Chef Dinner of Gregory Gourdet at Frasca in June. I've been a huge fan of Gregory for years, so I was thrilled to get the opportunity to meet him and enjoy his food. He started the meal off with a Chilled Asparagus and Leek Soup that was so green, so light and bright that I literally dream about it still.
Foodie Resolution for 2022
To cook with my kids more, keep on working to use/can our garden harvest and to try and give more meals to friends, neighbors, family that need some support. It's also to try a few new restaurants in town!
Jennifer Bridge is one half of Branded Beet, a content creation studio who manages our social media and Jenn is our amazing staff photographer. Jenn takes our breath away with the way she captures a moment, a meal, and a memory behind the lens.
Most Memorable Meal of 2021
Dining out for me has always felt like a special treat and I look forward to the experience almost as much as the food. That's why my favorite food memories from 2021 are more about the moments shared with great people than the meal itself—and this year had no shortage of amazing moments around a table—which felt especially important after a year of not sharing meals together at all. But if I had to make a list, all-you-can-eat tacos and margs at T/ACO, Cured's French picnic with my First Bite family at the Lyon's Farmette, a local taping of Man v. Food in the backyard of River and Woods and summer BBQs with friends and family topped my list this year!
Foodie Resolution for 2022
I am striving to eat less meat overall and would love to cook more vegetarian meals throughout the week—in theory this sounds doable, but I am worried about falling back on easy, less healthy options like copious amounts of pasta and cheese. So my resolution is to try at least one new vegetarian recipe a week that pushes me out of my comfort zone a little and allows me to learn a new skill in the kitchen or experience new ingredients. Lucky for me, my family is pretty adventurous when it comes to food so I'm looking forward to this challenge!
Rachael Caraluzzi is our charismatic Marketing & Communications Director who loves connecting restaurants and diners through unique storytelling and creative culinary events that bring people together.
Most Memorable Meal of 2021
This is tough, 2021 was filled with incredible meals shared with the First Bite team—both in the food, ambiance and amazing company! If I'm narrowing it down, I will say my most memorable meal would be the First Bite Local Table Tours where we were able to try the chef-curated dishes from so many amazing First Bite restaurants. It was such a unique experience to be able to try so many bites from these incredible restaurants and to be able to chat with the chefs, mixologists and owner's who bring their passion to life through their food.
Foodie Resolution for 2022
I've wanted to start a cookbook book club for years. Think book club with a potluck twist. Then spend the night chatting about the book, the author/chef, the history of the dishes, all while sipping cocktails and snacking on recipes from the cookbook. Any takers?!
Hailey Day combines her knowledge of design and technology as she executes web development and graphic design flawlessly.
Most Memorable Meal of 2021
In September, I thoroughly enjoyed a fantastic upscale 6-course Cured picnic at The Lyons Farmette. The weather was perfect, the setting was charming—surrounded by tall trees, farm animals and strings of lights. The food was delicious, and I couldn't have asked for better company with 5 other foodie mamas. A particular favorite on the menu was the fall potato salad with crème fraiche and shallots—simple yet elevated.
Foodie Resolution for 2022
I love to cook but getting my kids to branch out and try something other than mac & cheese and chicken nuggets is always a struggle. This year my resolution is to infiltrate their stubborn palates and get them to expand their minds to all the flavor possibilities. We may have to start with my library of cookbooks, including A Bite of Boulder, and search for something that piques their interest.
Nikki Knez is the other brilliant half of the Branded Beet team who brings the "creative" to creative content with her thoughtful execution of First Bite's social media.
Most Memorable Meal of 2021
I think my most memorable food experience of 2021 was the first night I dined at Ash'Kara over the summer. My palate still sings at the thought of those glazed carrots and that cloudlike hummus and feta. Yum!
Foodie Resolution for 2022
My fun and informal food resolution is to kickstart a taco review channel, wherein Jenn and I eat and rank the best tacos around Longmont. My more formal and thoughtful intention: to nurture and expand the interest in cooking at home that my kids have shown over the last year. Find and teach more recipes that they can master.
Sabina Zolot is the intuitive and forward-thinking sponsorship manager building strong relationships between the First Bite community partners.
Most Memorable Meal of 2021
One of my favorites was both because of the food and experience at River and Woods.  My family and I ate in a bubble (our 2nd meal out with the kids during covid), and the kids just loved the experience and still ask to eat in a bubble.  All the food was delicious, but all of us still talk about those ridiculously good Brussel sprouts that could be eaten as dessert.
Foodie Resolution for 2022
I'm the odd one out of the group in that I'm a foodie and love food and restaurants, but I don't love to cook!  My son says his favorite meal that I make is mac and cheese and peas. So, my resolution is to be inspired by all the amazing cooks around me and have fun trying new recipes and not think of it as a chore to cook, but to enjoy it.  And I hope that my son has a new favorite meal that I make!
Author : Rachael Caraluzzi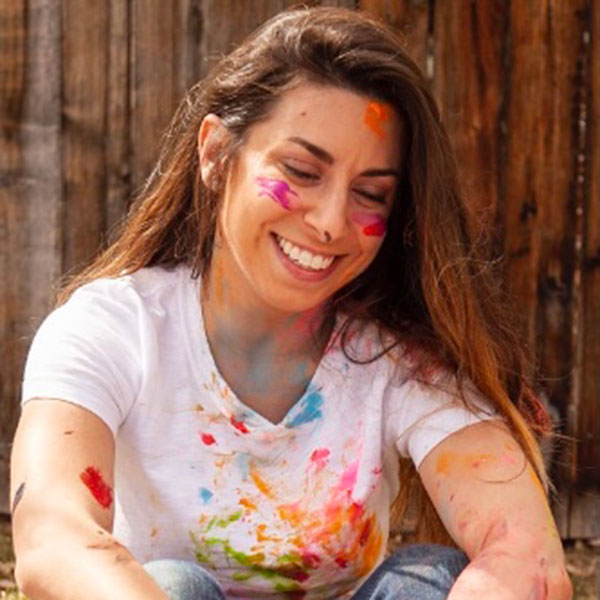 Rachael Caraluzzi is our charismatic Marketing & Communications Director who loves connecting restaurants and diners through unique storytelling and creative culinary events that bring people together.